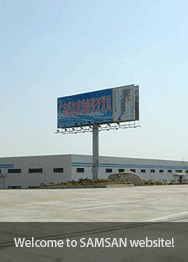 Welcome to SAMSAN website!




Thank you very much for visiting our website.


We, SAMSAN Inc., have been in the hose industry for over 40 years to manufacture
high pressure spray hose for agricutural use, air hose & welding hose for industrial use, and PE duct hose with supply of our products to more than 300 companies in domestic market and world-wide markets.

With excellent quality through constant launching brand-new products, developing new technology, and innovation, SAMSAN has good reputation and stable growth. To provide competitive price with excellent quality, besides Korea factory we have established China factory

that supplies markets of EU, East South Asia, Africa and North & South America with high pressure spray hose, air hose and welding hose and that builds distribution networks and continuous development.
By making current business a higher value-added one, developing new technology of products, and providing distinctive material and service, our goal to be world no.1 company in this field will be achieved.